Verify your business with Steward's payment facilitator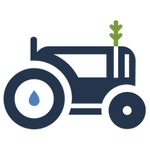 Updated by Steward Team
In order to use the Steward platform, all borrowers must first verify their business with Steward's payment facilitator, Dwolla. We've made this a simple process and should only take you a few minutes.
Create Your Business Account
If you have previously verified a personal payment profile with Steward, you will need to create a new account for your business. While you can use the same First and Last name as your personal account, the business account must use a different email address.
On the Steward website, click Sign Up
Enter your name, business email address and password
You will be sent an email to your business email address - click the button in the email to confirm your new account

Create Your Payment Profile
Once you've signed into your new Steward account, you'll find the Payment Profile option on your user Dashboard.
From your Dashboard, click Payment Profile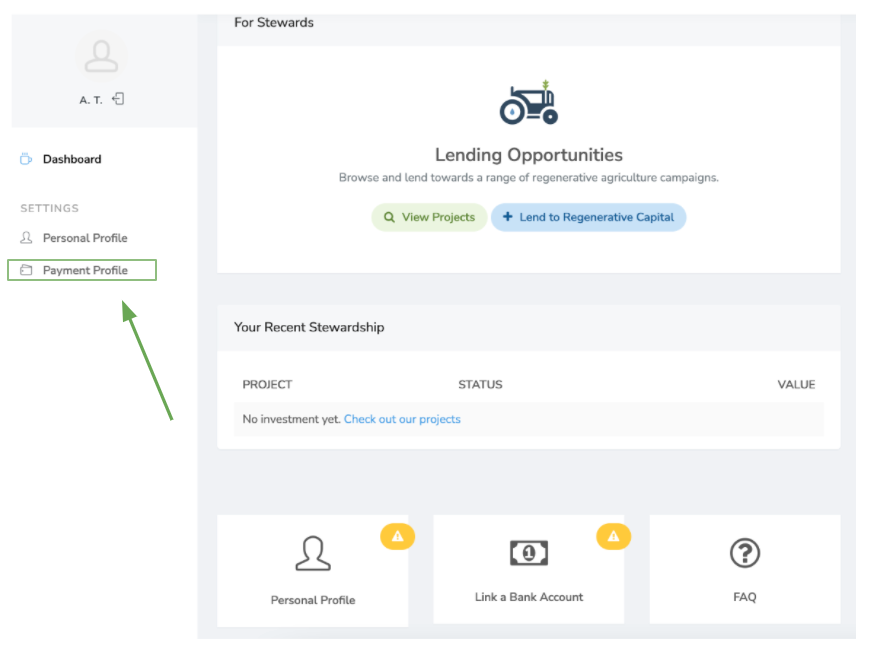 This will initiate the Payment Profile creation process and you'll now be prompted to add your business details.
Select Entity as the account type, and select your business structure from the drop-down list.
Note: currently only LLCs, partnerships, and corporations are eligible for Steward loans. If you operate under a different business structure please reach out to us to discuss your options.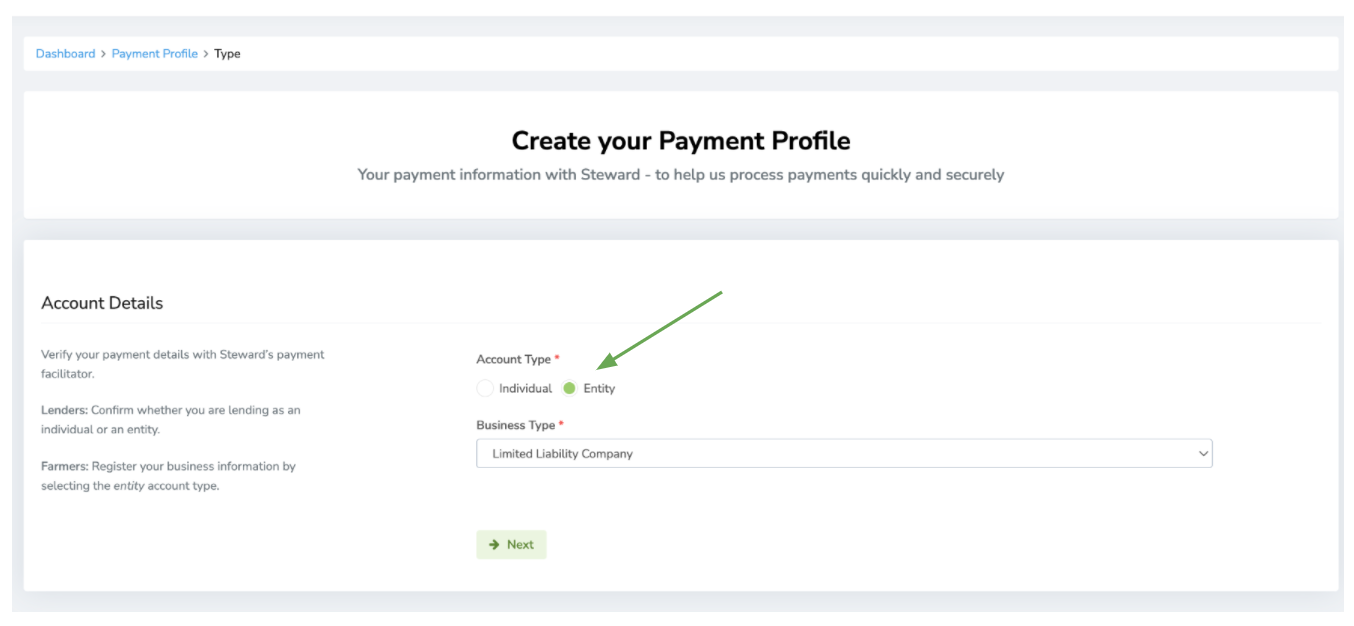 Click Next
You will now enter your business information. The information required includes:
Personal / Applicant details

Business Industry

(Select Food retail and services if there is no option more applicable to your business)
Business Classification (Please select the option closest to your business)
Business Tax ID (EIN)
Business Address
Business Controller's Personal Information
If you have any questions or concerns about the information requested here, please let us know at
support@gosteward.com
Once complete, click Create and you will be directed to your Payment Profile. Here you can:
Upload identity verification documents

Verify other business owners in your business

Link the bank account that you would like to receive funds into
Note: when you make changes to your payment profile you will be prompted to confirm the accuracy of the submitted information. Take a moment to review the details and certify the details for Steward's records.

Note that the above required information may differ slightly, based on your business type.
Within a few minutes, you will be sent an email from Steward informing you that your account has been verified. Your business now has a verified customer record with Steward's payment facilitator, and you are ready to continue the Steward loan process.
Did you find what you needed?